---
MY FOLDING BIKE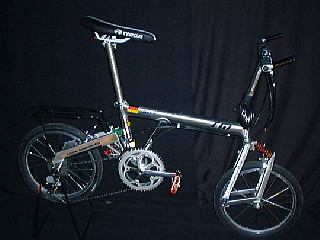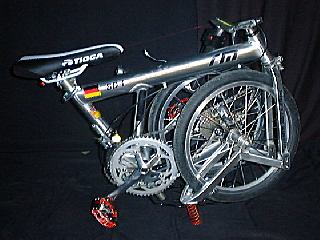 BD-1 (Birdy)
I have a folding bicycle. My folding bike is Birdy of Riese und Müller. In Japan, it is known as "BD-1". I love it.
Original specification of BD-1 (Japanese version of Birdy)
My BD-1 is '97 model. In 1997, the then price is 95,000 Yen. The basic specificaion of BD-1 is the following.
7005T6 aluminum folding frame with mono-pivot elastomer suspension
Aluminum folding fork with coil suspension
SHIMANO ALVIO Rear Derailleur
SHIMANO 7 speed 11-28T 7 Speed Cassette
56T Chainring
Sram Grip Shift
18" Aluminum Rim
1 1/8" Headset
Weight 10.5 Kg
Folded size 72$B!_(J58$B!_(J28 cm
Time to fold 15 sec.
Cost 95,000 Yen ('97 Model) / 110,000 Yen ('98)
---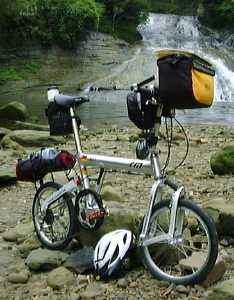 Additionl items for touring
I enjoyed touring by this folding bike. The story of my touring is written in the page "Bike Touring" in Japanese. My style of bike touring is the following.
At moring, I ride bike to the station of my home town. I bring my bike in train. I ride train to the destination. Then start biking. I ride bike till sunset. When it gets dark, I go to nearest station. I go home by train.
Pedal
I use SHIMANO SPD binding pedal. The peal is SHIMANO DX pedal.
Rear Rack
My rear rack was imported from U.S. This is different type from R&M's foldable rear rack.

Front Bag
JackWolfskin Tropical Rain Front Bag.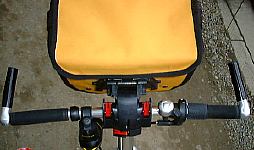 Saddle Bag
Agu Sport Quorum Saddle Bag.
---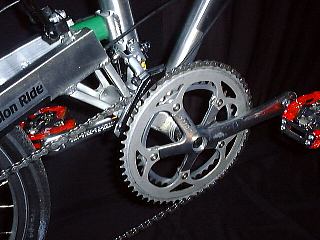 Remodeled to 2 x 7 (14 speed)
I want to more lower gear. At first, I wanted to change my 7 speed cassette to 9 speed cassette. I decided to take it up with Mr. Kataoka of the bike shop "CYCLETECH-IKD". Mr. Kataoka showed me images of his BD-1. His BD-1 has an additional lower chainring and a front derailleur. He made a special clamp mechanism of a front derailleur. I changed my plan. I thought an additional lower chainring is better than a 9 speed cassette. At last, I left my bike to Mr. Kataoka.
Special CLAMPING mechanism for Front Derailleur
SUNTOUR New Superbe Pro Front Derailleur
SRAM Grip Shift SR 4.0 (for Front Derailleur)
SUNTOUR New Superbe Pro 42T Inner Chainring
Bottom Bracket (BB) spacer x 2
I replaced the BB with SHIMANO BB-UN72 122 at Mar. 1999. The shaft length of the old BB is 118 mm. The shaft length of the new BB is longer than old one. The length is 122 mm. Now, I use only one BB spacer.

| Image 2 / Front Derailleur | Image 3 / Front Derailleur | Image 4 / Front Derailleur | Image 5 / Front Derailleur |
---
HIROKI ONO onohiroki@cup.com

1999 MAR. 21th updated